High-precision, short-lead-time molds realized by our proprietary technology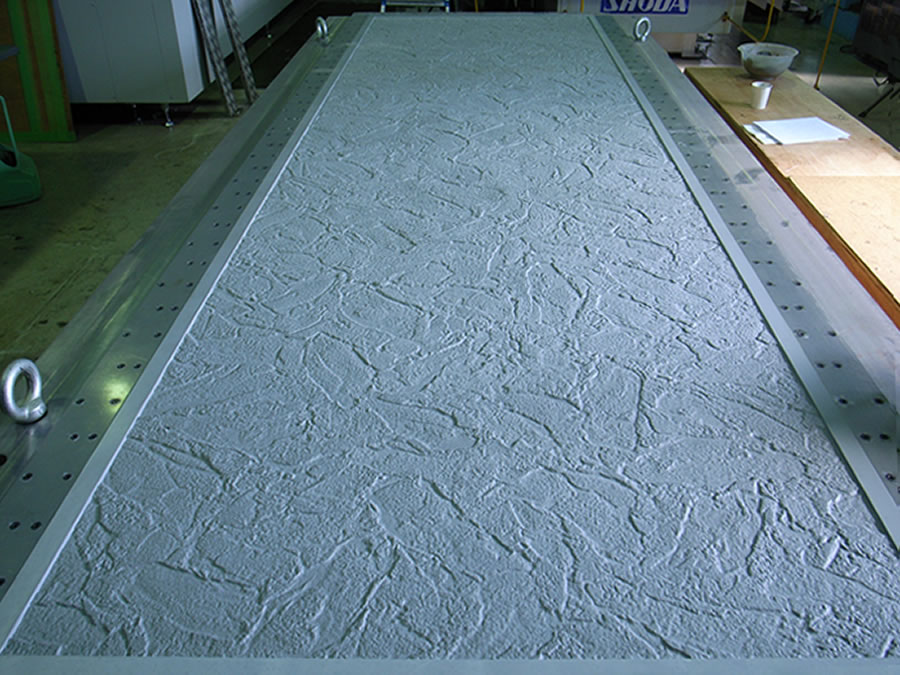 Resin mold
A resin mold is a mold whose surface is made from a special resin, developed by our proprietary technology. Having as high durability and wear resistance as metal, the special resin is integrated with a metal base or roller iron core.
Advantages
Short lead time
The special resin used on the surface of molds or rollers has low machining resistance, and compared with metal, it can be machined three times as fast. When the sizes of molds and rollers are standardized, mold or roller blanks on which the special resin is integrated may be kept in stock to further shorten the lead time.
High precision
The special resin and metal base or roller iron core are perfectly integrated, and the coefficient of linear expansion due to temperature changes of the resin is equivalent to that of the base metal. Pattern processing is performed at mechanical accuracy, and the total mold precision can be kept high.
Prices
The prices are not significantly influenced by the pattern depth or complexity.
Flexible accommodation to changes in pattern and design
Partial resin buildup and data-based partial reprocessing can be performed easily, realizing speedy pattern and design changes. The time required for prototyping is shortened, enabling swift start of mass production.
Digitization of change history data
Mold and roller production and design changes are controlled by digital data, and however many times the design is changed, molds of the mass-produced final design can be repeatedly produced and spare molds of the same can be produced.
Storage of negatives no longer required
Conventionally, a construction material mold was produced by means of a reversely produced resin, and it was necessary to store and manage the negative (product shape), but we directly carve molds based on digital data, and it is only the data that is required to be stored. Storage space cost, control cost and disposal cost will be no longer required.
Mass production is possible.
Only our resin molds can be mass-produced under the same conditions as metal molds.
Recyclability
Molds and rollers that become unnecessary because of a model change or product discontinuation can be transformed into a mold or roller with new patterns when the special resin part is replaced, reducing cost.
Resin-specific special functions
The characteristics of resin provide superior functions (machinability, high wear resistance and good mold release performance).
Disadvantages
Although the resin is special, it is still not suitable for use in high-temperature environments.
There are many records of mass production for use in an environment 50°C or under. Please inform us of your molding conditions.
For use in a high-temperature environment, duralumin, aluminum, brass, iron, etc., will be suggested in combination with suitable surface treatment methods in place of a special resin. The direct-carving technology can be used for varied materials.
In direct carving, the fineness of the pattern is dependent on the radius of the end of the mill. Machining fine pores in the leather-like grain pattern may be difficult. Trial processing is available upon request.
Uses
Based on our previous experience, resin molds are suited to processing building exterior walls, floor materials, construction face materials, roof tiles, Western paper, Japanese paper, film, and wallpapers.
Resin press mold
| | |
| --- | --- |
| | The photograph on the left shows a press mold for the mass production of ceramic exterior material. The part enclosed by red lines is made from special resin and the outside part is made from metal. The surface resin is perfectly integrated with the metal plate and hardly shows contraction or expansion due to temperature changes. |
Resin embossing roller
This photograph shows an embossing roller being processed.The pattern depth is 6 mm.
In the same manner as for the above material, resin is used for the surface of the iron core. It can be machined about three times as fast as iron.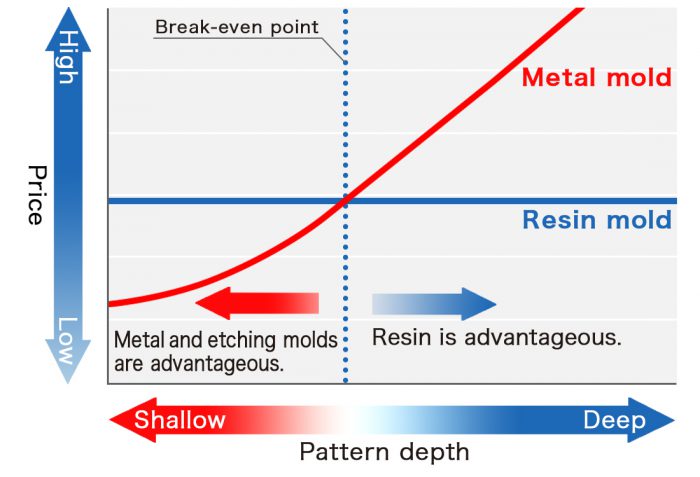 Because the production of a metal mold and etching mold are largely dependent on manual work, the price significantly varies depending on the pattern depth and difficulty.
In the case of a resin mold, the major part of production is performed by 3D data processing, and machining can be as fast as more than three times compared with metal molds such that their prices are hardly influenced by pattern depth or by machining difficulty.
A resin mold is advantageous when the pattern is deep, while an etching metal mold tends to be advantageous when the pattern depth is 0.3 mm or shallower.